Stainless Steel is known to be long lasting, temperature resistant and rustproofed. Accordingly surprised are users when they do find spots of rust on their stainless component. Quite often you find this phenomenon on stainless railings and building facades.
How does Stainless Steel corrode?
Whenever stainless steel is stored with mild steel rust can be transferred. Please try Google searching for contact corrosion.
More commonly you will find small particles from the environment corroding on a stainless surface. An ordinary trainstation is a superspreader of rust. Steel wheels are rolling on their railways. That friction is producing abrasives. This dust travels with the wind to lay down somewhere just to corrode into eternity.
Brake Dust burning into wheels
Under braking hot brake dust flies of your brake pads and rotors. Temperatures of more than 500°C are common. We don't know whether or not the brake pads do contain corrosive ingredients but steel rotors do so. Luckily most of this hot brake dust is cooling down sufficiently before reaching the wheels. That stuff can be washed off the surface. But still many steel particles are baking into the wheel surface. That paint might withstand 200°C but everything above is causing damage.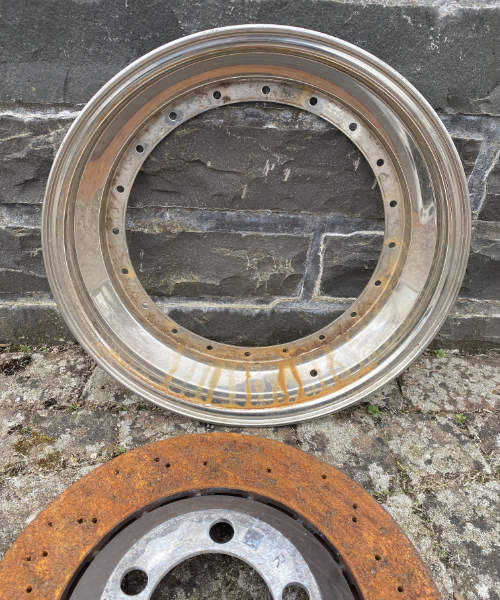 Wheel corrosion
Split wheels with stainless lips or monoblocks with stainless trim are much cleaner than painted wheels. Their surface is temperature resistant and much harder. Nevertheless we do receive reports from customers complaining about rust on stainless lips. On close inspection we found dots of tar glued to the wheel and the known brake dust. But als we found rust on stainless.
At this point I don't advertise any cleaning product. Most important the rust is just contaminating the surface. Not coming from inside the stainless material. It is not weakening the component or reducing its lifespan.
It doesn't matter whether the brake rotors, the brake pads or air pollution is contaminating your wheel surface. Just take a look at the picture of my small experiment. There is plenty of rust sitting on the stainless lip. All of that has been wiped off quite easily.
WWe don't know whether carbon brakes do effect this phenomenon negative or positive. I would love to hear from people driving on ceramic rotors. If you have any expierience please drop me an email to v.sc@me.com.